With a newborn and toddler in tow, and a four day holiday weekend ahead, we thought what better way to enjoy the lovely fresh spring greens of spring than a road trip through the Istrian peninsula which has often been called the Tuscany of Croatia.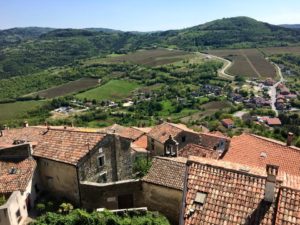 The beauty of traveling throughout Istria is that you can enjoy both the rolling vistas full of medieval hilltop towns peppered with vineyards and the hip yet historic coastal towns, all within a 30-60 minute drive from one great destination to another. This makes for easy traveling, including the ability to decide exactly what you would like to experience on a given day without having to plan ahead. You can also just drive around until you happen upon somewhere you would like to stop and see.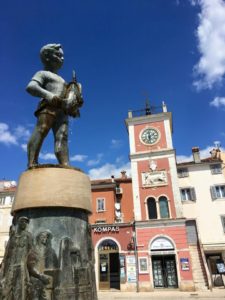 Lodging Considerations
We debated what lodging would make the most sense for us and considered staying at a hotel resort which would give us ample amenities and proximity to a town of interest as well as an apartment in a town of interest which would give us proximity and space.
Ultimately, we decided that a third option made the most sense for us given our goal of seeing the region. For even less than a hotel room or apartment would have cost, we were able to rent a gorgeous and centrally located house on an agrotourism property. We got ample space (crucial for a family of four with a newborn and toddler!), the convenience and charm of delicious locally-sourced breakfasts and dinners, and a great central jumping off point to explore the region. This ended up being the perfect choice given our goals for this trip. The lower price point had nothing to do with the quality of the lodging but due to the fact that we were not staying in a tourist town. This just added to the charm!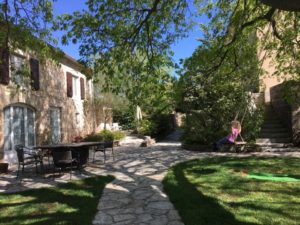 During our four day trip, we visited the towns of Rovinj, Motovun, Bale, and Grožnjan. We even spent a day at an amusement park called Dinoland Funtana which is very close to the coastal town Poreč (stay tuned for a separately article on this town!).
Rovinj
Rovinj is one of Istria's most beautiful fishing towns speckled with cobble stone streets and surrounded by 14 little islands. Originally, a Venetian/Illyrian settlement that was captured by the Romans, like most of this region, Rovinj has fallen under the rule of the Venetian empire, Austrian empire, Italy, Yugoslavia, and ultimately Croatia. Today the city is officially bilingual (Italian and Croatian) and an active fishing port. This means great restaurants and bars with Italian flare and delicious seafood and gelato.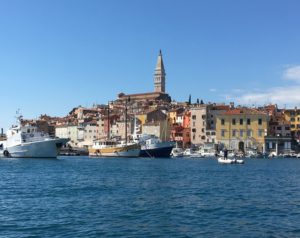 Be sure not to miss the cathedral of Sv. Euphemia and the artists' street of Grisia which has been described as Rovinj's "Montmartre."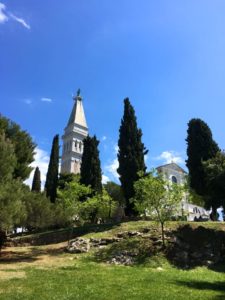 Motovun
Our next stop was the medieval hilltop town of Motovun in central Istria where you can walk the city walls and soak in the rolling vineyards.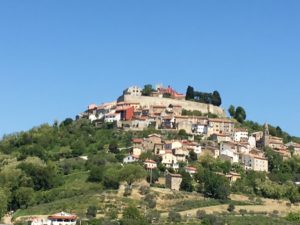 Despite a small population of about 500 residents, Motovun is filled with charming artisan shops where you can find hand-made treasures (not cheesy imported knick knacks trying to pass as local souvenirs) and top-notch cuisine featuring fantastic views and amazing regional dishes utilizing Istria's famous olive oils and tartufo (truffles)…and we happened to be traveling during truffle season (yum!). We even ate at a seemingly undiscovered restaurant (Mondo Tavern) tucked into the city's stone walls that has been reviewed by the New York Times! Beware of tourist season, however, even though we were there during shoulder season, it was already starting to get overcrowded which of course takes away from the more relaxing aspects of strolling through the streets.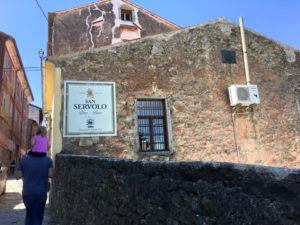 Bale
Bale is a tiny town that happened to be near the house we were renting. You could literally walk through it in 5 minutes. What was particularly neat about Bale was that the old stone buildings were mostly left empty and not renovated or kept up as much as other towns. As a result, you get a strong sense of walking through history, almost as if you are in a ghost town. Despite the quiet abandon you feel through the old town, there are a couple of great restaurants just outside the center.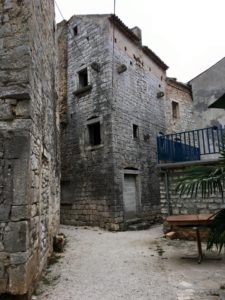 Grožnjan
While Motovun is more famous for its vineyard vistas, we found the views from Grožnjan even more spectacular.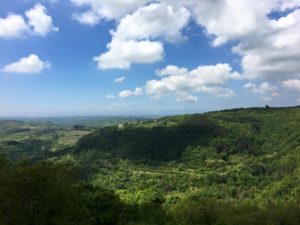 This town is smaller than Motovun but larger than Bale. Every street corner feels like you are walking through a gorgeous photograph or painting of medieval buildings strewn with flower baskets and vines draping from doorways. There are a couple of nice restaurants and artisan shops. It also appears to be a pit stop for road bikers which is always fun to see. With the such gorgeous countryside, who can blame them for setting out to venture from town to town throughout the region?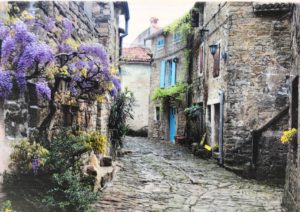 (PS – This is a photograph by a local photographer during wisteria season, I can't take credit for this one!)
Overall, Istria is incredibly beautiful and easy to explore by car, even without planning out a detailed itinerary. Be sure to take advantage of all the great wine, olive oil, and truffles to be had in the region as well as the medieval towns and crystal coastline with amazing seafood, people watching, and island hopping. We felt very fortunate to experience all of these spectacular treasures without any hassle. I have a feeling that it would have been a much different story in the thick of tourist season. It seems this region is best enjoyed before the crowds come in!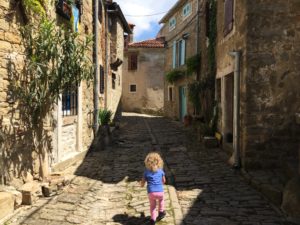 Please follow and like us: