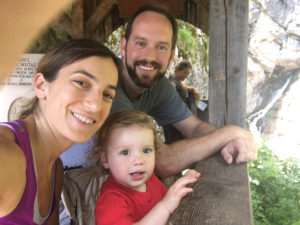 So in June 2016 after having obsessively watched years of House Hunters International and dreaming that the right opportunity would come along, coupled with just the right amount of personal bravery, to embolden us to leave our comfortable lives behind and take the leap across the ocean…we made good on a fantastic opportunity to move from Washington, D.C. to Ljubljana!
Having never stepped foot in Slovenia, we had a lot to learn. We got as far as we could before our trip with every book, YouTube video, and travel guide we could get our hands on. We had heard very little about Slovenia before this opportunity came about, and now that we are here we realize that we are only beginning to scratch the surface of this incredible region.
While it is only a population of 2 million people, did you know Slovenia has over 22k vineyards (have you ever had Slovenian wine…why not)? That it is surrounded on all sides by either the Alps or the Adriatic sea? That it is bordered by Italy, Croatia, Austria, and Hungary? That it is considered the greenest country in the EU (which in part means you have to separate all your trash into 5 categories, but it also means you can pretty much bike everywhere)? That most areas in Ljubljana are walking distance to a daily farmers' market or two? That it is super kid friendly (meaning almost every restaurant has a playground and/or toys, allowing parents to indulge in more than a 20-minute family meal out)? That there is almost always a festival going on somewhere (we are told in particular not to miss carnivale in February)?
It also seems like Slovenians must have the most athletes per capita from anywhere that I have ever seen. Everywhere I look I see road bikers, mountain bikers, hikers, rock climbers, kayakers, and runners. There are outdoor gyms in every major park and there is even a SKI JUMP in the park across the street from my house!
Anyway, I could go on and on. My hope with this blog is to share this journey of discovery with you and maybe even inspire you to travel to and learn about Slovenia.
In the meantime, happy reading and…let the adventures begin!
Please follow and like us: