As the days get darker and ever more frosty, there is nothing more uplifting a city can offer than flooding its central squares with cascades of local food and craft stalls, as music wafts through the air amidst the sounds of cheerful laughter and clinking glasses of gluhwein.
Living in Ljubljana, we have been fortunate enough to be able to access several spectacular Christmas markets within no more than a few minutes' walk to a few hours' drive.
Ljubljana, Slovenia Christmas Market
While you may not have read much about Ljubljana's holiday market in the latest Condé Nast, locals rightfully refer to the last month of the year as "Happy December" where cheerful lights sparkle all the way from the foothills of Ljubljana Grad (city castle) through downtown bus stops and the famous Prešeren Square.
Along the banks of the Ljubljanica river, you will find no shortage of sidewalk cafes outfitted with heat lamps, hot wine, music and charming lights ready to warm up even the coldest nights.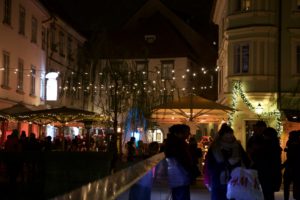 Finally, you will find wooden stalls set up throughout various city squares filled with local artisan crafts including honey liquors (Slovenia is famous for its honey), handmade puppets (another important Slovenian specialty), knitwear, ornaments, as well as more tourist-centric treats.
Klagenfurt, Austria Christmas Market (1 hour 15 minutes from Ljubljana)
You likely have not heard of Klagenfurt, I had not, but it turns out to be a super charming little Austrian town near the border of Slovenia. The town is graced with a gorgeous central square (Neuer Platz) which gets decked out during the holiday season with traditional Austrian food and drink stalls (think sausages, sauerkraut, heaps of hot potato mash, mulled wine, and chestnuts, mmmm), ornament and artisan vendors, pony and train rides for the kids, and live music.
When traveling from Slovenia to Austria (or vice versa), don't forget to pick up a vignette (the equivalent of a prepaid EZ-Pass valid for a pre-determined number of days) at any local gas station on either side of the border to avoid getting hit with a hefty fine.
Zagreb, Croatia Christmas Market (1 hour 15 minutes from Ljubljana)
If I had to pick one Christmas market to meander, this would be IT. Three things I love about this market: (1) Space. This market spreads throughout the main downtown parks and squares yet is easily walkable so you never feel overwhelmed by crowds (something you do not experience at some of the most famous markets); (2) Variety. The Zagreb Christmas market includes a nice mix of activities and crafts that appeal to all ages (for example: live music and performances from international artists; games, rides, and movies for children; a plethora of hot food and wine; and the most spectacular ice skating rink you can imagine (set up in King Tomislav Square)); and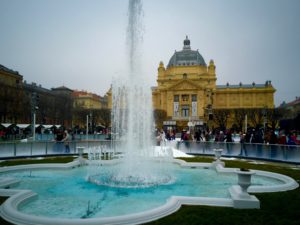 (3) Atmosphere. I am a sucker for ambiance and I have to say that the lighting at the Zagreb Christmas market is just magical. While all Christmas markets have holiday lights, there is just something extra enchanting about the bluish white icicle lights draped along the garden gazebos and wrapped around the ancient city trees. The mood is electric at night with laughter and dancing abound.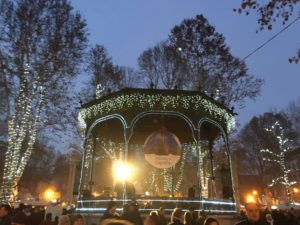 I highly recommend you seek out and experience this Christmas market if you are in the region.
Salzburg, Austria Christmas Market (3 hours from Ljubljana)
As the birthplace of Mozart and considered one of the most charming small cities in Europe, Salzburg has been a well known destination for quite some time. The city boasts one of the largest and most famous Christmas markets in Europe and as a result, there is no shortage of shopping, singing, or strolling to be had.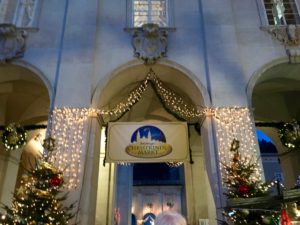 If you are looking for glitz and glam, this market may be for you, but I must admit that I personally found it to be a little too overrun. As we walked through the main markets, which funnel people through narrow paths, I felt like I was stuck in rush hour traffic full of aggressive drivers.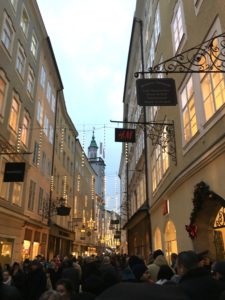 Perhaps if I had started on mulled wine early in the day I would have felt differently! That being said, there are some great aspects of the Salzburg markets. For example, you will see the characters of Christkindl (Christ-child), St. Nicolas, and Krampusses (evil spirits punishing misbehaving children) throughout the city with no shortage of acting and singing performances. Also, one of the markets has a special area dedicated to children with warm wooden huts outfitted with arts and crafts for a break from the cold. Finally, I must admit that the artisan crafts are undoubtedly among the most beautiful I saw, particularly when it comes to Christmas decor if you are looking for something special to take home with you.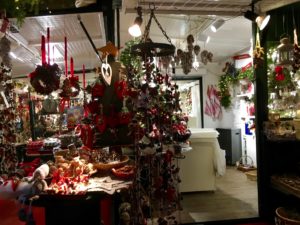 Other Nearby Christmas Markets
Next year I am hoping we will have the opportunity to explore more of the surrounding Christmas markets within an easy weekend's drive from Ljubljana including: Nuremberg, Germany; Vienna, Austria; Ferrara, Italy (we drove by this town as they were setting up their markets and it was absolutely stunning and off the beaten path); and Trieste, Italy. I will plan on posting about those markets next holiday season.
In the meantime, I hope this article helped peak your interest in considering a trip to Slovenia and the region during the holidays!
Please follow and like us: