Lake Bled is probably one of the most visited destinations in Slovenia, and there is not much mystery as to why. With its pristine glacier carved lake surrounded by the Julien Alps, Lake Bled is home to a culturally rich town peppering a portion of the waterfront with charming little restaurants, a 17th century hilltop castle, and a beautiful baroque church situated on its very own island in the middle of the lake. I must say I have never seen such a picturesque lake and I had to blink twice to make sure I wasn't looking at a painting!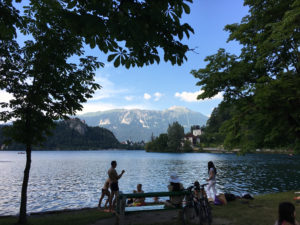 This lake is only a half an hour drive from Ljubljana without traffic and we have already visited it several times. If you are looking to swim without too many bells and whistles you can just find a free spot on the shore and jump in. If you prefer a few more amenities, there are a couple of club houses where you can pay a small entrance fee and get a simple lakeside lunch or refreshments, camp out on lounge chairs or hang up your own hammock under a tree, take a dip in dedicated swimming areas surrounded by docks, go down a slide, or play in a sandbox in the shade (I didn't see any age restrictions!).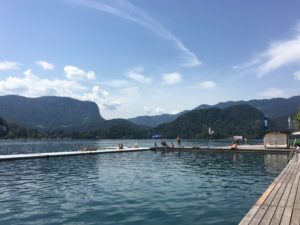 The town of Bled also hosts great events including an annual international music and local food & crafts festival in the summer where visitors stroll along the shores waiting to see 10,000 candles that are released into the water at 10 pm followed by fireworks cascading down from the hilltop castle at 11 pm. Everyone (including little tikes…it is Europe after all!) stay up to make sure not to miss out on the action.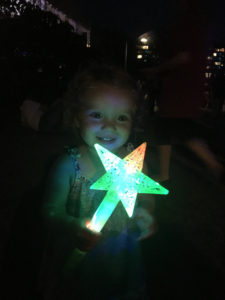 Don't worry if you are not in town for this specific festival, since Bled hosts many great events throughout the year including many athletic (triathlons, etc.) and cultural events. Here is a good link to help plan a visit if you want to take advantage of the goings on.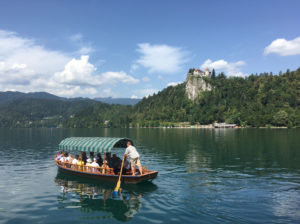 Bled is a great destination if you are looking for cultural excitement mixed with natural beauty. You should keep in mind that it does get touristy, particularly in August. If you are looking to avoid the crowds (although Slovenia doesn't get that crowded compared to other places I have been), you could consider visiting at a different time of year. Each season is beautiful here. Lake Bled is also a great jumping off destination to visit Triglav National Park and experience gorgeous gorges, waterfalls, camping, hiking, and other beautiful lakes in the wilderness.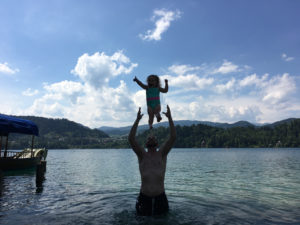 Stay tuned for future articles to learn more about the region!
Please follow and like us: